Head Bailiff
Posts: 17690
Joined: Mon Aug 22, 2011 4:55 pm
Location: Leicestershire
Contact:
Coming along very nice wm+.
Mark (Administrator)

The most precious places in the English landscape are those secretive corners,
where you find only elder trees, nettles and dreams. (BB - Denys Watkins-Pitchford).
---
Wild Carp
Posts: 9800
Joined: Wed Apr 04, 2012 11:33 pm
Location: Leicestershire
Very good, I want one
Chance is always powerful. Let your hook be always cast; in the pool where you least expect it, there will be a fish
---
Martin
Top thinking for clamping the the job to the cross slide and using the slot mill in the chuck.

I'm currently drilling a duplex case having just traversed 30' milling the jointing face flat on my 5 axis cnc that has both turning and milling functions
---
Estaban
Exemplary work WM+. Do you have the competed lathe sketched out already or are you designing the components as the build progresses?
I fully agree with your statement about not being afraid of making mistakes....sometimes it's the mistake or problem that becomes solution
---
Grayling
Posts: 557
Joined: Thu Mar 15, 2012 11:07 pm
Part 5. The Tailstock, continued..
Firstly, apologies for not posting on this for such a long time. Have been overtaken by events and other issues and anything to do with hobbies has had to be kicked into touch for a while. That, and what with the cold weather, it has not been exactly encouraging to work in a freezing cold garage in the evening!
However, yesterday I managed to do a little more to the Tailstock so here a a few pictures of progress so far..not much, I'm afraid, but it keeps the project ticking over.
The object is to make something which will allow you to do the drilling of float bodies and also to be able to support long, cane-stemmed floats of different sizes, whilst the body is being turned.
It will be very similar to a full-sized lathe, but in miniature.
Last time, we were using the lathe as a crude sort-of mill, to hack out the unwanted metal from the block of steel. Continuing on from that then, the next step was to cut away the middle to make a 'waist'. (All will be clear as you will see..)
The block was again set up on the lathe bed and clamped to it. Using such a big cutter, it was only possible to make very light cuts of about 0.005" at every pass, so it took a little while.
In answer to your question Estaban; yes, I do have a drawing of the project, but that is being constantly updated as we go along! Certain things are hard and fast of course, otherwise we would never get anywhere.
After a lot of setting-up & taking down, we eventually arrived at this..
The next thing was to put it up in the lathe, clock up true to the sides and base, then drill & bore a hole through for the thread.
Whilst it was set up in this position, I turned a boss on each end, using a boring bar on the opposite side and running the lathe in reverse.
Now it was time to start filing..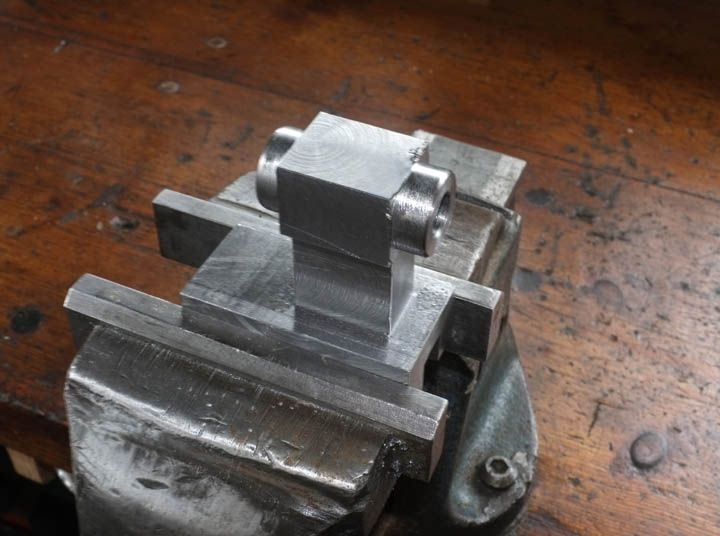 ..starting by radiusing off the top (roughly at this stage) to blend in with the end bosses.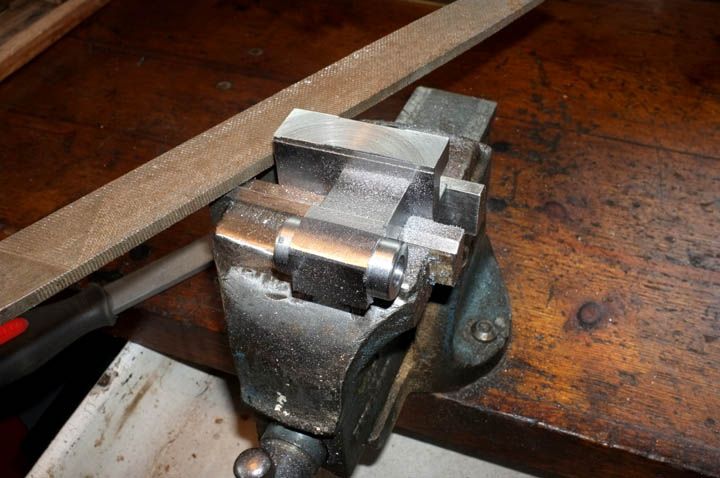 This was then roughed out.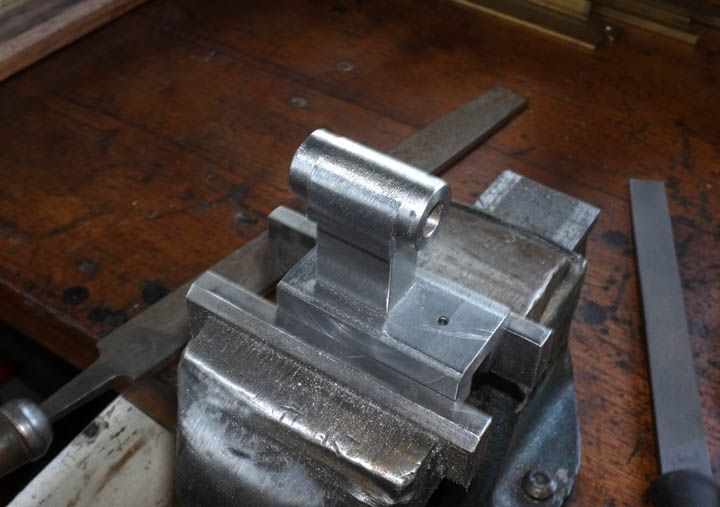 The block was then again set up on the lathe bed to make the chamfered edges..
The radii were then filed in..
..and the waist. I did this with a 14" 'Rat-tail' file to start with, then second-cut with a half-round.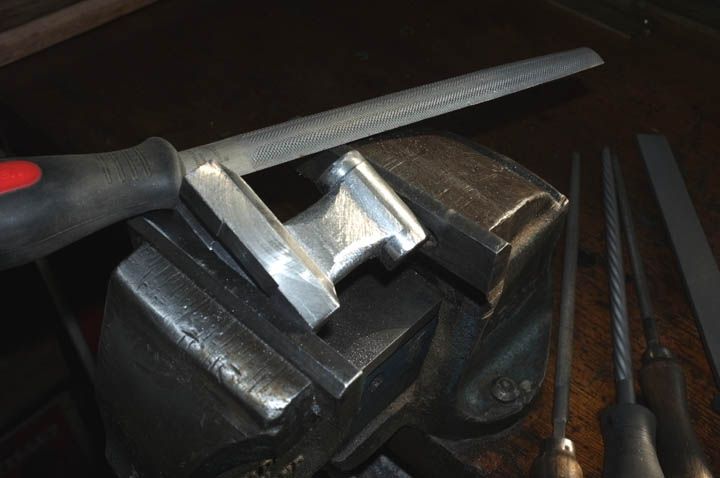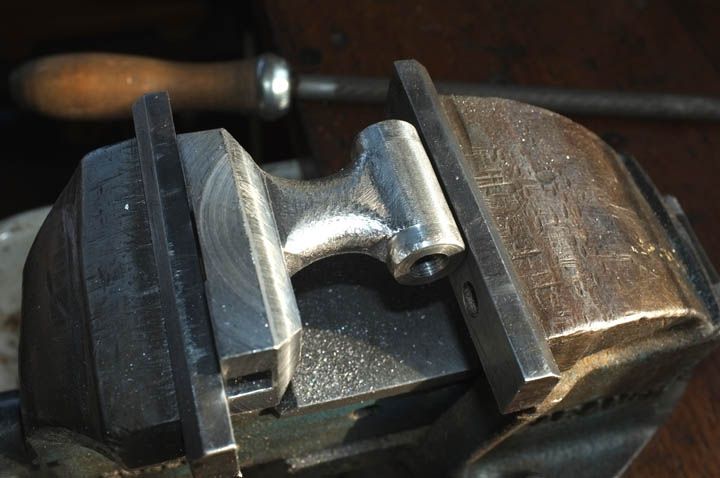 I then cut the thread. In this case, a standard M12x1.75p.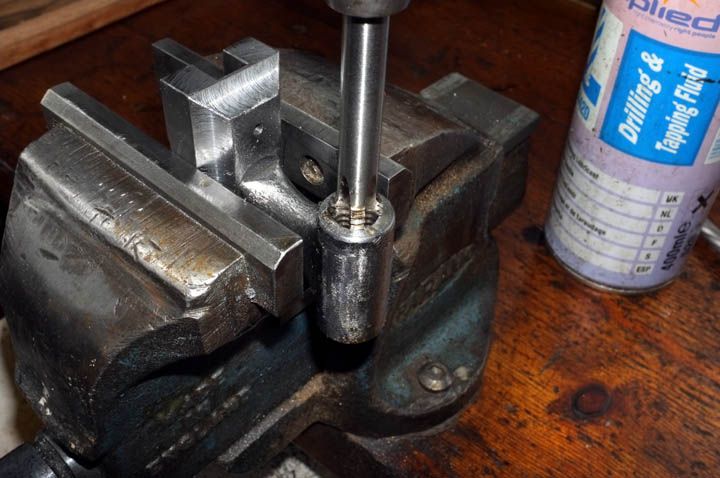 The tailstock is now starting to take shape but there is still much to do yet to complete it. ..Couldn't resist a trial fitting..!
The next thing will be to make the centre 'quill' and the means of locking it in the desired position.
More next time..
Regards from wm+

....But lay up for yourselves treasure in Heaven, where neither moth nor rust doth corrupt, and where thieves do not break through and steal.
For where your treasure is, there will your heart be also ..Jesus of Nazareth, King James AV
---
Salmon
Posts: 8901
Joined: Sun Sep 04, 2011 11:52 am
Location: North Oxfordshire
Contact:
Extraordinary work and outstanding ability WM+
Many men go fishing all of their lives without knowing it is not fish they are after.
~Henry David Thoreau
---
Arctic Char
Posts: 1564
Joined: Sat Oct 06, 2012 2:22 pm
Location: Cheslyn Hay, Staffordshire
It's those little things that make all the difference. Others may not radius the edges but in so doing it gives a far more professional finish. It's certainly much more than the one I cobbled together. Mine is all wood and not very well finished at that. I doff my hat to you sir
Currently reading......Go Fishing For Bass and Go Fishing For Skate and Rays both by Graeme Pullen, The Kill Switch by James Rollins, Raspberry Pi Manual - Haynes, 'Make: Electronics by Charles Platt' & the 'Myford series 7 manual by Ian Bradley'

---
Brown Trout
Posts: 1371
Joined: Sun Mar 25, 2012 11:59 am
Location: East Sussex
Stunning workmanship to the tailstock WM+. A wonderful piece of engineering. Might I make 1 criticism.......
Not your work but your quote regarding description "Last time, we were using the lathe as a
crude
sort-of mill, to
hack
out the unwanted metal from the block of steel."
Words like 'crude' and 'hack' have no place describing your work. Absolutely blown away by your talent sir!
"
We shall not cease from exploration. And the end of all our exploring will be to arrive where we started and know the place for the first time.
".
T. S Eliot
http://richard-cleaver.blogspot.co.uk/
---
Catfish
Posts: 5757
Joined: Wed Nov 02, 2011 2:24 pm
Location: Cornwall
Great work as usual
Old car owners never die....they just rust away
---
Crucian Carp
Posts: 851
Joined: Thu Jun 07, 2012 8:16 pm
Awesome! - I could have done with you as my metal work teacher at school WM+
"I can't wait to buy a bamboo pole and a filament of line and a tube of breadcrumbs. I want to participate in this practice which allows a man to be alone with himself in dignity and peace. It seems a very precious thing to me".

John Steinbeck
---
Who is online
Users browsing this forum: No registered users and 2 guests